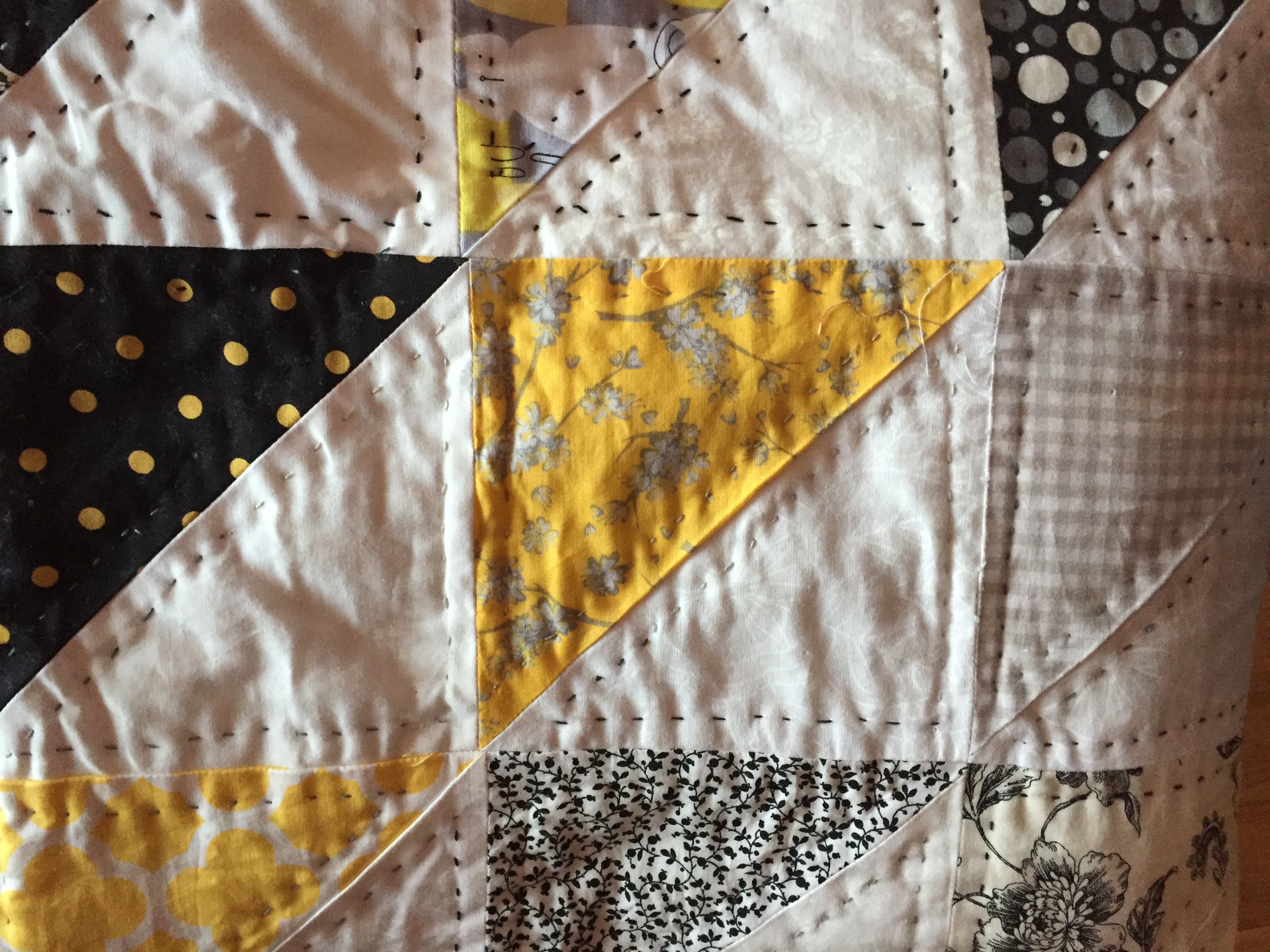 We think of Big Stitch as a technique that has become popular over the last couple of years. In one sense, that is true. We are beginning to see more and more Big Stitch quilting on baby quilts, utility quilts, children's quilts, traditional quilts and modern quilts. But Big Stitch has been around for a very long time, called by different names, and used in different countries.
My fascination with Big Stitch began in the last couple of years. As I would talk about Big Stitch, I heard quilters, from time to time, say "Oh, that's not new," and then they would talk about quilts their grandmothers made, finishing them with big stitches and embroidery floss.
This got me looking around to see if I could find more examples of Big Stitch. I thought I would find American vintage and antique quilts. And while those likely do exist, my search began taking me in different directions entirely.
Japanese Sashiko Quilting
Sashiko quilting is a form of big stitch quilting. Sashiko is an ancient form of stitching practiced in Japan. It often is put onto just one layer of fabric, what we would consider just the top only. Then, the top is made into a more traditional quilt with a top, backing, and batting. These stitches are often very exact, very even, very precise. I see it most often on indigo colored fabric, made up of a different weave fabric than we see in our traditional cotton fabrics.
I also came across a slighty different use of Sashiko stitching in antique Japanese textiles. Not just for decoration, Sashiko was also used by farmers to mend their clothing and quilts. In previous centuries, fabric was precious, hard to come by, and expensive. Farm families often mended older clothing using patches and scraps of other pieces to cover tears. These patches were often sewn on using a form of Sashiko
stitching that was very utilitarian.  It was a way to strengthen a patch and preserve the utility of jackets and clothing so that they could be used by another generation. These fabrics were also often dyed with indigo, as indigo is known for its lasting properties, allowing the fabrics to stay a beautiful blue and not need continual redying as other colors required. This use of Sashiko for mending is often referred to as Boro or Wabi-Sabi, a Japenese phrase that translates to "scraps" or "rags".
Indian Kantha Quilts
 Another form of Big Stitch Quilting I discovered was the Kantha blankets made in many parts of India. Kantha blankets are typically made of layers of used Sari's that have finished their life as clothing and are then reformed into blankets and quilts. The stitching in Kantha is typically straight running stitches, in rows that are about an inch or less apart, stitched vertically into the fabric layers. The saris are often patching large pieces of sari together. The fabrics are brilliant and beautiful and the blanket has a very soft pliable feel, very comfortable to use.
Contemporary Big Stitch Quilting
Large hand quilting using embroidery floss, perle cotton, and larger gauge threads is becoming popular now in western quilting. I enjoy teaching this technique to quilters and triggering their creativity, as they plan how they can use this technique in their own family quilts. As with the Kantha blankets, big stitch quilting makes a very soft and comfortable quilt, different from the quilts we send to long-arm quilters to quilt. I enjoy this softer feel for the quilts I give my family.
Is your shop or guild looking for a good Big Stitch Quilting Workshop?  I teach "Big Stitch Quilting – Fast, Easy and Inexpensive Way to Finish Your Quilt". See my lectures and workshops page for details.