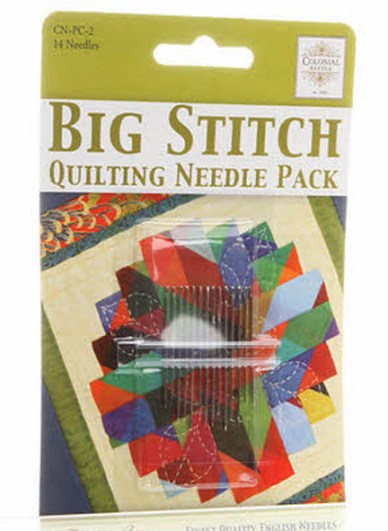 There are some choices when it comes to what type of needle to use when quilting with Big Stitch. The most important features are:
Big eye for threading larger threads
Sharp point for piercing layers of fabric
Big Stitch Needles
I highly recommend picking up needles that are specifically designed for big stitch quilting. One of the brands I use is the Big Stitch Quilting Needle Pack by Pepper Cory. This package includes several different sizes of needles with different lenghts and different eyes. I use the needles with the largest eyes. What I recommend is that you pick up a pack, and try the different sizes to find your favorite. You may have more than one favorite depending on the type of thread you are using and the type of fabric in your quilt.
Embroidery Needles
If you have a lot of needles at home and want to use what you have, a hand embroidery needle is a good option. They will often have larger eyes, but not as large as the big stitch needles. As long as you can thread the needle, and the end is sharp for piercing the fabric, it's a good needle to try. I don't recommend darning needles. While they have nice large eyes, they are often very thick in diameter and have a dull point. The dull point will make it difficult to pierce the fabric of your quilt.
Thimbles
You will most likely want to use a thimble for Big Stitch Quilting. If you have used a thimble before and have a favorite, that is the one to use. If you have never used a thimble successfully before, I highly recommend trying a leather thimble. My favorite is the Bohin Leather Thimble, size medium. They come in small, medium, and large. If you're not sure what size to try, start with a medium and see how it fits.