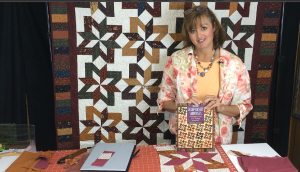 Hello! My name is Deborah Richmond. I am the owner of The Quilted Turtle, an online quilt shop. I live in DeWitt, Michigan. I sell and demonstrate tools for quilters at quilt shows  and guilds around the midwest.
When I demonstrate products, I work with our top sellers. I know what quilters are buying and I can show your guild members how to use each product and their best features. You can see some of my product demonstrations on YouTube. Here are just a few:
The Best Tools to Organize Your Quilting Studio
I have been a quilter for 35 years, from the time my mother taught me how to quilt when I was a child. Over the years, I have walked into quilt shops and have seen lots of products and tools. But if I don't see them demonstrated, I don't know if they are useful or not. That's why I love to give demonstrations and show quilters the tools that will make their quilting easier. The tools I demonstrate are not only best sellers, but they are my favorite tools that I use in my own quilting.
When I demonstrate products at guilds, I can demonstrate 10 products in a one-hour lecture. I will then have those products available for your members to purchase if they see a tool they think will be helpful in their own quilting.
If you would like more information about prices and availability, please contact me at info@quiltshownews.com or call me at (616) 498-0289. I look forward to hearing from you and working with your guild!